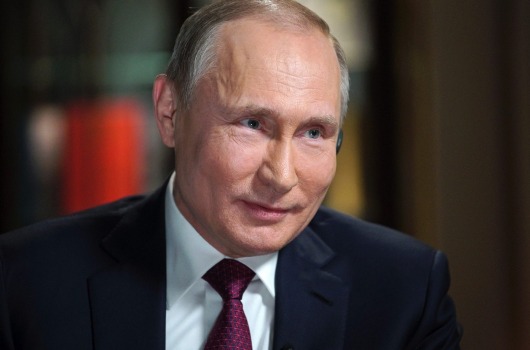 Vladimir Putin emerged victorious from Sunday's Russian presidential election, winning 76% of the vote and being declared the outright winner. He will remain the country's leader until 2024. Along with the only other nationalist in the race, Sergey Baburin of the Russian All-People's Union, the right therefore won 77% of the vote in the election. Russia's political landscape has swung strongly towards Christian traditionalism. Less than a quarter of the vote went to the left, with the Communist Party candidate, Pavel Grudinin, coming in second with 12% of the vote. The faux-nationalist Vladimir Zhirinovsky came in third with just under 6% of the vote.
Putin, who ran as an independent, was also endorsed by Russia's largest nationalist party, Rodina, who opted against running a candidate of their own. Putin's credentials as a leading advocate of traditionalist values are well-known. He is supportive of large families and strongly opposes gay "marriage." He is a top strategist and in terms of foreign policy, certainly the most sensible prominent world leader. However, less well-known are his (albeit mild) ethnonationalist sentiments. Back in 2013, Putin expressed concern that "Europeans are dying out." That he was referring to the native white population is evident, as the continent's total population (including immigration) was, at the time, growing by 0.1% annually.
Only a little more than a week ago, Putin was asked about "evidence" that thirteen Russian nationals meddled in the U.S. presidential elections. Putin of course responded that the Russian state cannot take responsibility for the actions of those individuals, adding that he doesn't even know if they were Russians – that they could be Jews, Tatars, or Ukrainians with Russian citizenship. Putin thereby made a hard distinction between ethnic Russians and non-Russians with Russian citizenship. Putin has also placed immigration restrictions in place and his government is not shy when it comes to deporting criminal immigrants. Speaking on the issue of immigration, he has also warned in the past that America is losing its white Christian identity.
Putin certainly remains a mixed bag and I disagree with many of his positions. He has, for example, spoken at the opening of a mosque in Moscow. Nevertheless a victory for Putin is very good not only for Russia, but especially given his foreign policy, also for the world. His re-election is something about which Christian ethnonationalists in the West can be pleased.