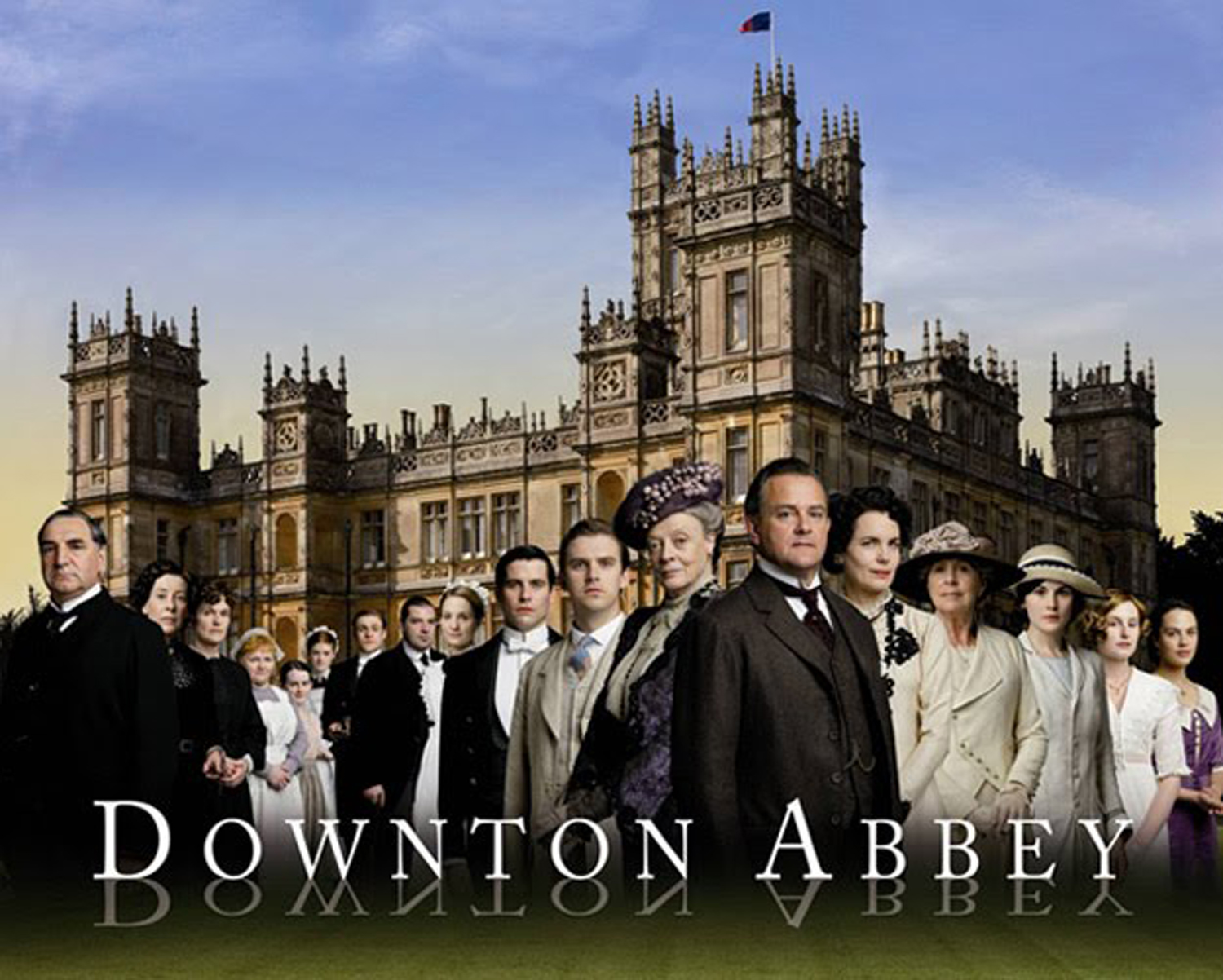 In our continuing analysis of Downton Abbey, we'll address how the series depicts class distinctions. The First World War dealt a severe and arguably fatal blow to the traditions of class distinctions upon which the West had been built. In many ways, the aristocratic order of Christendom was swept away in favor of the democratically elected bureaucracy with which we are all familiar today. Modern audiences will presumably sympathize with this transition, although it is interesting that the real allure of Downton Abbey is its depiction of the upper crust of Britain's old aristocratic class. Would people be similarly interested in watching a show about the lives of cabinet members in the early twenty-first century? I think not. The popularity of Downton Abbey may demonstrate a subconscious desire to return to a simpler time when society was run by decent – and admittedly nationalistic and class-conscious – aristocrats. So how does Downton Abbey present the issue of class distinctions in the early twentieth century?
How Class Distinctions Are Portrayed
Class distinctions are presented as an important part of British society in the early twentieth century, although their role begins to diminish with the outbreak of the First World War. The transition away from class consciousness during the war and after the war's conclusion is generally presented neutrally, with both positive and negative effects during the sometimes turbulent changes in post-war British society. Violet Crawley, the Dowager Countess and matriarch of the family, is particularly attached to traditional class distinctions. Violet is very concerned about the effects of class-mixing that take place during wartime. She is terrified by the prospects of officers, privates, and civilians of different social ranks being unnaturally mingled together when the Downton Abbey estate is converted into a convalescing home during the war. She is also concerned that Sibyl's time as a nurse will allow her an opportunity to form an inappropriate attachment. Violet's fears are confirmed when it is discovered that she has indeed formed an attachment to the family's chauffeur, Mr. Tom Branson. The match is troublesome to the Crawley family for several reasons, not the least of which is the distinction of class, Branson being of the working class and Sibyl a lady and a member of the aristocracy. In addition to class scruples, there are also religious and cultural scruples as well. The Crawleys are an old English family with a history of being socially and fiscally conservative as well as Protestant. Branson is a nationalistic Irish radical and a Catholic.
The romance between Sibyl and Tom is one of the central relationships of the show, prominently demonstrating the strain of breaking down class barriers. When Robert, Sibyl's father, learns of the romance between the two and discovers that they plan to elope to Dublin, he is utterly mortified. He attempts to exert his traditional patriarchal influence over his wayward but tender-hearted daughter only to find that he cannot expect the kind of support that a man in his station would have received in generations past. Most of his family gives guarded support for Sibyl's decision, though Violet thinks that Sibyl is mad to pursue an Irish chauffeur. The American-born Cora tries to justify Sibyl's relationship by diminishing the importance that her husband ascribes to social class distinctions, suggesting that Sibyl should be able to do as she likes. Robert responds with one of my favorite lines that the show has produced: "If you're turning American on me, I'll go downstairs."1 The romance of Tom and Sibyl has proved to be quite popular with viewers, and the success of their relationship, along with Robert's eventual capitulation, is meant to prove that love can conquer all differences.
While the romantic element between the aristocratic-born Sibyl and commoner Tom Branson may be entertaining, I believe it presents an overly optimistic outlook on such relationships. Although this may never occur to most modern viewers, Robert Crawley has a point. Robert is opposed to the match on the grounds of social class, but class is not the sole basis of his objection. After all, his daughter Mary is courted by their upper-middle-class relation Matthew, and Robert expresses relief when Mary is spurned by the callous Duke of Crowborough, who is only seeking money. Robert is genuinely concerned for Sibyl's welfare, fearing that Branson will encourage Sibyl's radical political ideas and that his dangerous socialistic ideas will harm the family's reputation. Branson is also a staunch Irish nationalist whose vehemence leads him to outbursts of anger towards the political disposition of the British Empire, an empire in which his prospective father-in-law plays a prominent role. Yet another factor underlying Lord Grantham's opposition is Branson's Catholicism; Robert insists that Catholicism seems so foreign to him. It is clear that there are many reasonable grounds for Lord Grantham to oppose this match: despite romantic love, the couple is ill-suited for each other. When Tom announces to the rest of the staff that he intends to marry Lady Sibyl, the indignant butler Mr. Carson, who is fiercely loyal to the interests of the Crawley family, responds, "Have you no shame?!"2
Tom Branson is treated as an amiable character in the show, and in many ways he is deserving of the viewers' sympathy. He shows genuine consideration for Sibyl's well-being when she is insistent on attending a raucous political rally. Branson's Irish nationalism is also entirely understandable given the long history of oppression suffered by the Irish at the hands of English colonizers. The problem, though, is how this would naturally place strain (at the very least) upon any prospective relationship he might develop with Sibyl. The show does not carry Tom and Sibyl's romantic dalliance through to its logical conclusion. While Sibyl's willingness to downgrade her social station seems sufficient to ensure that she and Tom will be able to make their relationship work, many real-life couples embark on the same journey but with much less satisfying results. The reality is that couples in these kinds of relationships rarely have a happy ending. Today, fathers no longer have the authority or the will to influence the company their daughters keep, leaving young men and women without the guidance and direction that they often need in order to make wise decisions about romance and companionship. There are many Lady Sibyls today who marry Tom Bransons, or worse. Relationships that don't make sense but somehow work have become a common theme in contemporary American romantic comedies, but reality is more stubborn. Soaring divorce rates and blended families are testament enough to show that in real life, Tom and Sibyl would have likely resulted in another aristocratic divorce, which was becoming more common during that time.
Tom's views of wealth and prosperity are tainted by his circumstances growing up in Ireland. Because his Irish countrymen have been mistreated by the British, he has therefore sought intellectual refuge in Marxism. He views the conflict in Ireland as the struggle of an agrarian proletariat against the aristocratic and bourgeois classes of England. Previous generations of Irish patriots would have supported an independent monarchy; in the seventeenth century, many Irish and Scottish nationalists pledged loyalty to the Jacobite cause, which sought to restore the deposed Stuart lineage to the throne. During the late nineteenth and early twentieth centuries, some Irishmen turned to Marxism, having been frustrated by the traditional institutions that had dominated them for so long. Branson epitomizes this attitude throughout most of season 2. One way that the show dampens the potential for disaster in Tom and Sybil's relationship is by Tom's softening of his early radicalism during season 3, encouraging various members of the Crawley family – Violet, Mary, Matthew, and Matthew's mother Isobel – to advocate for him with Robert. Tom is even able to use his knowledge of farming and agriculture to help run the estate. While Tom's transition from a young socialistic chauffeur to a respectable gentleman probably represents wishful thinking on the part of the writers, it does provide a silver lining in the otherwise ill-begotten marriage of Tom and Sybil.
While Downton Abbey presents Tom and Sibyl's relationship as a positive example of class distinctions' blurring during and after the First World War, there are many ways in which the show portrays class distinction as a positive synergy rather than something resembling Marxist class struggle. In the first season, after discovering that Matthew has become his heir apparent, Lord Grantham summons Matthew and his mother Isobel to the estate so that they can meet. Matthew is determined to continue living in middle-class simplicity and to resist becoming entrapped by aristocratic pretensions. Matthew insists on dressing himself and makes minimal use of those employed by the house. From Matthew's perspective, he is being humble and practical, but an unintended consequence is that his personal valet, Mr. Molesley, feels useless. When Matthew talks to Robert about dispensing with the services of Mr. Molesley, Robert gently chastises Matthew for not seeing the bigger picture. The Downton estate provides employment and security for many people in the area, and eliminating their services would deprive them of their living. Matthew learns that to move into the aristocratic class doesn't have to mean that he rejects sensibility or humility. He decides to let Mr. Molesley stay and help him dress, and he even discovers how Molesley was able to remove a tough stain from his jacket, thus demonstrating that the position of valet really is valuable.
Another positive portrayal of class in society occurs when Robert uses his position to help out the house butler, Mr. Carson, in the first season. Robert leverages his influence as an earl against a man trying to extort Mr. Carson. An old acquaintance of Mr. Carson named Charles Grigg shows up uninvited, looking to extort money from Mr. Carson. Carson has been smuggling some food out of the kitchen for his erstwhile friend until he finally can no longer meet his demands. Grigg shows up at the house and demands that he receive more money from Carson, or else he will divulge details of Mr. Carson's early career as a stage actor. Robert learns of Griggs's plot and threatens to have Griggs imprisoned for extortion. Griggs, knowing that Robert is right, angrily storms off and impertinently suggests that one day, men like Robert will be made equal to everyone else. The irony is that while modern viewers are predisposed to championing the "progress" of equality, it is clear from this situation that future equality has only brought men like Lord Grantham down, as opposed to elevating scoundrels like Griggs upwards towards a more refined and moral life. Griggs himself knows this, and this episode clearly demonstrates that those who clamored for "equal rights" in the early twentieth century weren't simply asking for fairness or deliverance from oppression. Griggs would prefer to knock Lord Grantham down so that his extortion plot could go unimpeded. This is what the blogger at Cambria Will Not Yield might refer to as the "equality of the dung heap."
Many people today misunderstand the tension experienced between the "old money" aristocrats and the "new money" elites that emerged in the late nineteenth and early twentieth centuries. The common narrative is that the undeserving aristocracy was often hostile to commoners who became wealthy due to their own efforts and hard work, while the aristocrats simply sat on the laurels of their deceased ancestors and frittered away their wealth in meaningless frivolities. There is some truth to this in the ways that aristocrats behaved, especially as the twentieth century approached. There is no excusing the conduct of many members of the upper class in how they divorced and remarried, kept mistresses, and disregarded traditional morality to varying degrees. It would be a mistake, however, to consider that the problem was entirely with the British aristocracy. Many aristocrats were justly reserved about the place of the new elites in British society. A great example of this is presented in Downton Abbey with Lady Mary's tumultuous relationship with newspaper magnate Sir Richard Carlisle during season 2. Carlisle is a muckraker who holds his own with the most prominent yellow journalists of the period. Sir Richard has no sense of duty or obligation towards anyone. He makes it perfectly clear to the Crawley family that his job is to do whatever he can to sell newspapers and nothing more. He thinks nothing of making casual threats, calling in bribes, spreading rumors, and using blackmail to keep Mary from leaving him. James Burnham explained that during the early twentieth century, traditional elites such as royalty, aristocrats, clergymen, and knights who displayed the qualities of loyalty, bravery, and valor were replaced by managers and bureaucrats. Burnham termed this the managerial revolution, and this revolution took place during the period of Downton Abbey. Unfortunately, from the standpoint of history, it is the managers like Richard Carlisle who ultimately triumph in their competition with traditional elites and the old aristocracy.
Uncouth ruffians represented by Charles Griggs would have no qualms knocking over an aristocrat for personal gain, and the emerging managerial class represented by Sir Richard Carlisle had no sense of duty, morality, or obligation whatsoever. In contrast to this, Lord Grantham demonstrates that he possesses a thorough knowledge of his duties and obligations as a nobleman. While touring the estate with his distant cousin and heir Matthew, Robert comments that when Matthew views the estate, he sees "a million bricks that may crumble, a thousand gutters and pipes that may block and leak, and stone that will crack in the frost." To this Matthew responds, "But you don't?" and Lord Grantham replies, "I see my life's work."3 Later, when Lord Grantham is explaining to Mary his responsibility to the estate, he tells her, "My fortune is the work of others who laboured to build a great dynasty. . . . I am a custodian, my dear, not an owner. I must strive to be worthy of the task I've been set."4 In Lord Grantham's statements about his responsibility towards the estate, we can perceive the Christian doctrine of stewardship and dominion. He is self-consciously aware that he is a placeholder in a dynasty larger than himself. Because of his place in society, he is obligated to defend the legacy that has been committed to his charge and to pass it on in sound condition to his heirs. Contrast this with today's wealthy classes, who exist without loyalty to their church (if they even nominally affiliate with one), their nation, or even their families, and become wealthy through far less noble means in comparison with the old European aristocracy. The attainment of wealth in the world of Downton Abbey was intrinsically attached to the principles of honor, dignity, piety, and moral responsibility. The Lord Granthams of yesteryear would have scornfully rejected anything resembling libertarian excess or Randian Objectivism.
Downton Abbey portrays a highly class-conscious society, but not a society lacking in dignity or compassion for the most part. Mr. Carson is one of the most fiercely loyal supporters of the family, even considering himself an extension of the Crawley family through his longstanding relationship with them. He is able to maintain close relationships with aristocrats despite not being a member of their class. Today, these types of relationships have been replaced by more impersonal means of employment and "human resource" departments. While there is no doubt that life could be difficult for a servant in the early twentieth century, it is nowhere near as bad as some people imagine it to have been. Egalitarian progress throughout the twentieth century has not brought about the sort of harmony that liberals imagined it would. Egalitarianism has dragged elites (and everyone in general) downward, rather than pulling society at large to an exalted station. The Western world has demonstrated that it cannot carry on her aristocratic tradition of civility without aristocrats.
Conclusion to Part 3
Class is an important part of society that cannot be simply legislated away. The talents are not equally distributed, and this is no less the case simply because we resent natural inequality. The Bible certainly does not legislate against the existence of class distinctions, but rather instructs Christians to acknowledge and respect these distinctions: "Render therefore to all their dues: tribute to whom tribute is due; custom to whom custom; fear to whom fear; honour to whom honour" (Romans 13:7). While this verse certainly doesn't mean that we should obey tyrants simply for the sake of their office, it does teach us to respect legitimate authority which is established according to God's Law. In contemporary Western societies we have replaced the aristocracy, who had a natural attachment to and interest in the welfare of the people whom they governed arising from heredity, dignity, and honor, with bureaucrats, who have no such intrinsic attachments to those they rule. The only way back toward civilization is to acknowledge and genuinely understand the basis for national identity. Once we understand this, we will truly perceive why the bureaucratization of Western society has been so disastrous, and we will once again witness the emergence of a class of knights who will carry us forward safely into the future.
In the next article, we will discuss how religion is portrayed in Downton Abbey.