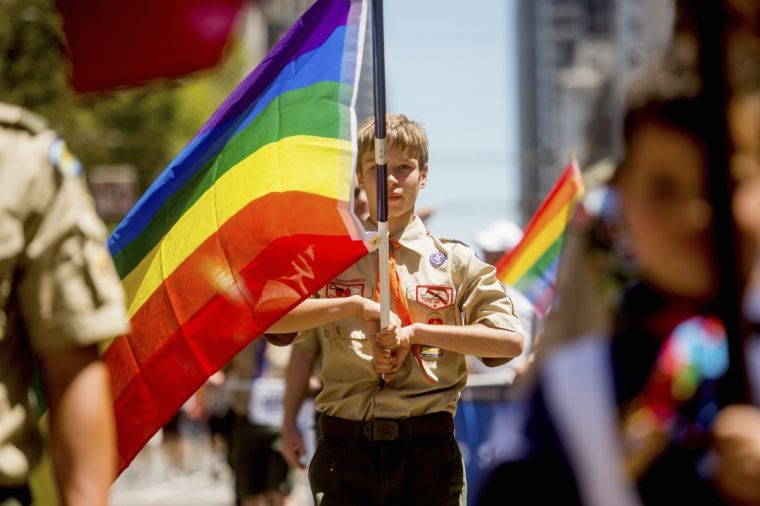 After the pseudo-controversy regarding the Boy Scouts of America's ban on homosexual leaders and troops back in the days of yore (policies which ended under the oh-so-august reigns of Barack Obama and Robert Gates for scouts in 2013 and for leaders in 2015, respectively), many sane people packed their bags and left the organization.
Though their leaders flirted with the idea of actually taking a principled stand, I am befuddled by how many Mormons still participate in the organization. For those unfamiliar with the practice, Mormon influence in BSA is absolutely yuge, accounting for 20 percent of all Boy Scouts. The LDS Church is the number one sponsor of Boy Scout packs.
More troubling is how the LDS Church endorsed allowing gay scouts in 2013 and did not part ways with BSA once they allowed openly gay men to take young boys under their control in 2015.
But even though the Mormons stuck around — citing an exemption that allows religiously-based Scout packs to restrict their leadership to heterosexual men (haha, let's see how long that lasts) — the equality police have kept steamrolling along. They didn't really think the sodomites would stop, did they?
Of course they didn't.
Degenerates in the national media are fawning over the latest "courageous" infiltrator into the organization, which still ironically requires its members to swear to be "morally straight."
Joe Maldonado (was her birth name Josephine?) is a nine-year old, transgender Boy Scout who was born as a girl but who thinks she is a boy. Her mom Kristie and her new pack leader Kyle Hackler think her inclusion in the Boy Scouts is a wonderful thing. The new Boy Scout is the first openly transgender member of the Boy Scouts of America.
After learning that the girl had been thrown out of another Cub Scout pack, Hackler, the leader of her new pack, petitioned his area council in December to allow the transgender girl into his pack. Last week the Northern New Jersey Council of Boy Scouts decided to do away with its requirement that Boy Scouts be…boys.
An hour later, the national Boy Scouts of America caved. In its statement, BSA indicated that Boy Scouts are for boys, and that they've always gone with the gender indicated on the child's birth certificate to determine eligibility.
However, that approach is no longer sufficient as communities and state laws are interpreting gender identity differently, and these laws vary widely from state to state.

Starting today, we will accept and register youth in the Cub and Boy Scout programs based on the gender identity indicated on the application.
Rome wasn't built in a day, but the speed in which it is being destroyed is breathtaking.