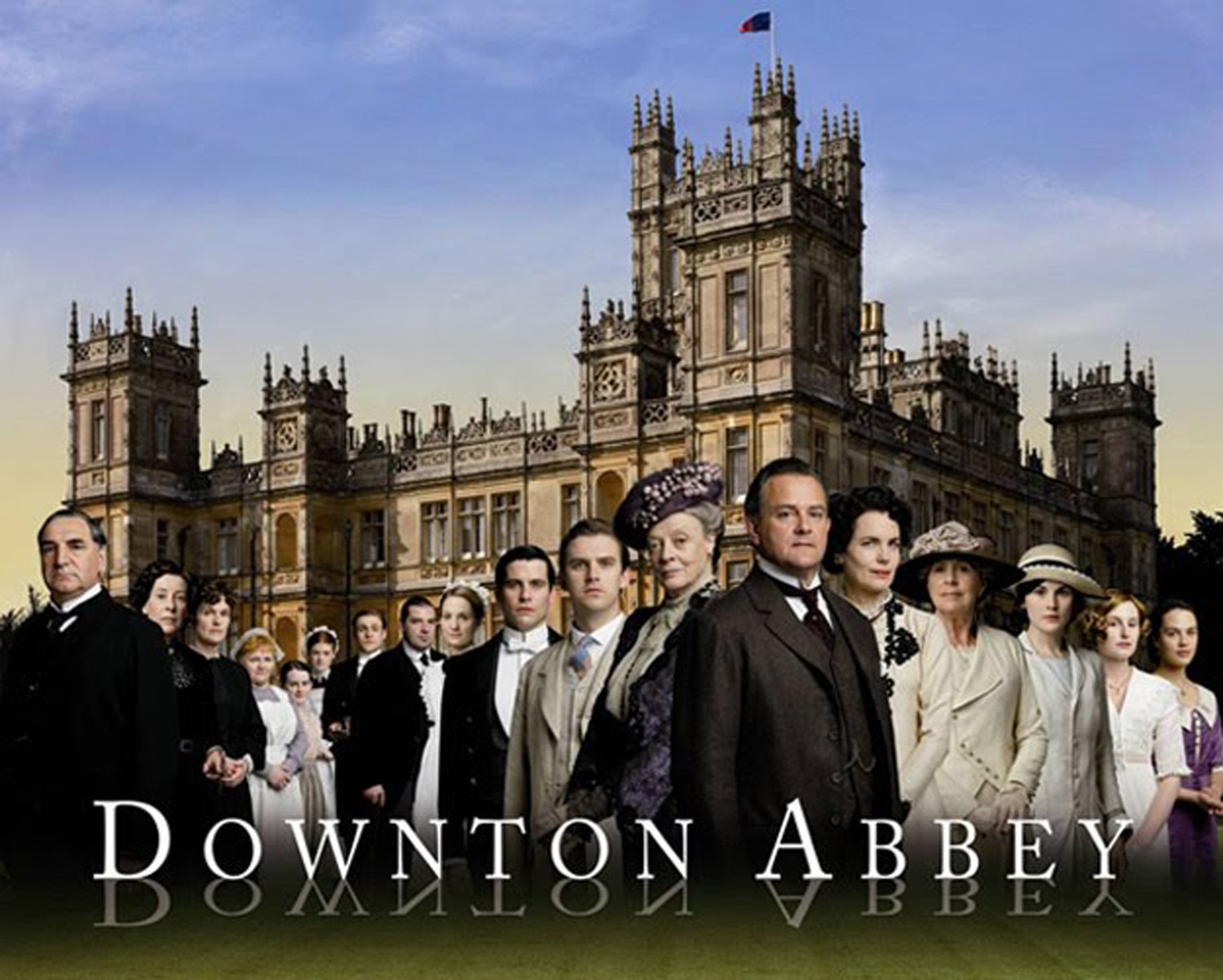 "The past is a foreign country, they do things differently there." This iconic and proverbial quote from the first line of The Go-Between by L.P. Hartley most accurately describes the overwhelming feeling one has in viewing the world of Downton Abbey. In this fictional television drama, we are afforded an opportunity to see just how different British society was merely a century ago. After viewing the series, it becomes apparent how foreign that British society is to contemporary Britain or the contemporary West in general. The series is set in the fictional Downton Abbey, a Yorkshire country house and the seat of the Earl and Countess of Grantham, portraying the lives of the aristocratic Crawley family and their servants during the reign of King George V. Most of the indoor filming for the show is done at Highclere Castle, the seat of the actual Earl and Countess of Carnarvon, and most of the outdoor filming takes place at Bampton in Oxfordshire.1
The series allows us a glimpse into a traditional society on the eve of substantial change. When the series commences in 1912, Europe was concluding what is sometimes referred to as the "long nineteenth century," spanning from the French Revolution to the First World War. While the French Revolution mortally wounded the traditional framework upon which Christendom had been grounded, much of the European tradition was able to linger for more than a century, although its intellectual foundation had been greatly weakened. In many ways the First World War deconstructed European civilization in a way similar to the destruction wrought by the War Between the States (commonly referred to as the Civil War) upon American society. After the war's conclusion, it was only a matter of time before the Merry Old England, cherished by so many of her native children, gave way to the postmodern Britain which is devoid of morals and manners and in which Britons have lost the will to even survive and reproduce themselves. Downton Abbey demonstrates the ways in which a subtle transformation altered society for the main characters from the way things were prior to the war. When understood in this light, Downton Abbey can be viewed as a kind of British Gone With The Wind. The difference is that most people will probably view the series with a curious fascination for English high society as they are also made to feel sympathy for the changes that occur, whereas Margaret Mitchell was lamenting what was lost in the South with their defeat at the hands of Union invaders.
In the first season we are introduced to the Earl and his family. The Earl, named Robert Crawley, is married to a wealthy American heiress from New York named Cora. They have three daughters, named Mary, Edith, and Sybil. Lacking a son, the Earl will pass his fortune to his closest male relative in what is called an entail. The drama begins with the news of the sinking of the Titanic, when Lord Grantham learns that his cousin and presumptive heir, Patrick Crawley, has died in the shipwreck. We learn that Patrick was engaged to the oldest Crawley daughter, Mary, which was perceived as a means to save the Crawley family. Although Mary was engaged to Patrick, it is her younger sister Edith who was really in love with him. Lord Grantham decides to extend an invitation to a young, upper-middle class lawyer named Matthew Crawley, his third cousin once removed and now heir apparent, to live in a cottage by the estate, along with his widowed mother, Isobel Crawley. The purpose is for Robert to get to know his distant relative Matthew and to involve him with the running of the estate that will one day become his after Robert's death.
We are also introduced to the household servants including Mr. Carson, the butler; Mrs. Hughes, the head housekeeper; and Mr. Bates, who becomes Lord Grantham's valet. Other servants are Anna Smith, who develops a relationship with Mr. Bates; Tom Barrow, who we discover is homosexual; Mrs. Patmore, the estate's cook; Daisy, her assistant; and Tom Branson, the chauffeur.2 The series develops romantic tension between Matthew Crawley, the heir apparent to Lord Grantham, and Mary, Lord Grantham's oldest daughter. A friendship also develops between Lord Grantham's youngest daughter, Sybil, and Tom the chauffeur. Matthew initially is interested in Mary, and she is encouraged to pursue Matthew since their marriage would make Mary the presumptive future countess of Grantham. The first season ends with news of the outbreak of war with Germany.
The second season details how the war impacted life for the Crawleys and their servants, both at home and abroad. Matthew Crawley enlists and is made an officer, and many of the other men in the service of the estate enlist. The series provides a realistic and stirring portrayal of the pain and loss that many people of all classes felt during the war. The staff is scandalized by Ethel, a new housemaid with delusions of grandeur. She is seduced by an army officer who impregnates her and then dies just before the war's conclusion. Ethel tries to implore her seducer's wealthy parents to help her raise the child. When her baby's discourteous grandfather agrees to take in the child on the condition that Ethel must cut off contact with her baby, she refuses and resolves to raise her son on her own. In a particularly poignant scene, Lord Grantham asks a maid, "Do you ever wonder what it was all for?"3 Sybil and Tom begin a romantic dalliance that commences with their mutual interest in radical politics. Sybil is an avowed suffragette and Tom is openly socialist. By season's end, they are resolved to marry against the wishes of Sybil's father, Robert, and plan to set out for Ireland to begin their married life. Lord Grantham, seeing that there is nothing he can do to prevent the marriage of his youngest daughter to his liberal erstwhile chauffeur, decides to acquiesce and give quiet acceptance, though not endorsement, of their impending marriage.
This season also presents tension between Matthew and Mary, who have temporarily stalled in any romantic pretensions that they had for one another and pursued other relationships; Matthew with a Miss Lavinia Swire and Mary with Sir Richard Carlisle, a media magnate. Lavinia discovers Matthew and Mary kissing late one evening after she has gone to bed, and she acknowledges that Matthew and Mary belong together, resolving to end her relationship with Matthew amicably. Matthew refuses and insists that he loves Lavinia, but providence intervenes when Lavinia dies during an outbreak of the Spanish flu. Mary finally breaks with Sir Richard Carlisle after receiving her family's support, for it becomes known that Carlisle has threatened to expose a scandal involving Mary's sexual indiscretion with a Turkish diplomat who stayed at Downton, thereby ruining Mary's prospects of marriages and tarnishing the Crawley family's reputation. Mary plans to spend some time away at her maternal grandmother's estate in America, only to have Matthew decide that he and Mary really do belong together, proposing to her. In a tender and serene conclusion to the season, Mary accepts Matthew's proposal and decides to weather the scandal in England with Matthew and her family.
Season 3 commences with news that Sybil, now married to Tom, is pregnant with Lord and Lady Grantham's first grandchild. We learn that the Downton Abbey estate is suffering from financial difficulties due to antiquated approaches to management and poor investments. A source of tension is introduced after Sybil gives birth to a daughter, who is also to be named Sybil. Tom insists that their daughter be baptized Catholic because "she is Irish like her father." Lord Grantham is mortified, insisting that there hasn't been a Catholic Crawley since the Reformation. Ultimately, Lord Grantham is overruled, and his granddaughter is baptized Catholic in nearby Ripon. Another source of tension is Ethel, who we learn has turned to prostitution in desperation. Isobel Crawley hires her as a housemaid to try to get her out of prostitution. Many people are deeply scandalized and refuse to associate with Isobel or Ethel. Season 3 concludes with a visit to their relatives in Scotland, the MacClares, who reside at Duneagle Castle. Viewers are treated to a glimpse of Scottish culture at the ball, complete with traditional Gaelic dancing.
The Issue of Unhappy Marriages
One issue in the Downton Abbey series is the problem of unhappy marriages. A prominent unhappy marriage involves Mr. John Bates, the valet to Lord Grantham, who we discover is married to his estranged wife Vera. We are told that Vera has made life miserable for Mr. Bates and that he has even spent time in prison on her behalf. She arrives trying to interfere with his romance with the housemaid Anna Smith. The presence of Vera adds a good deal of drama to the story as Mr. Bates tries to procure a divorce from his wife and begin anew with Anna. During this struggle, we hear Mr. Bates and Anna lament how difficult it is to acquire a divorce at this time in the history of British law. We are led to believe that many problems faced by people like John Bates and Anna Smith would have been fixed more easily with divorce more readily obtainable.
Yet another unhappy marriage is that of Hugh MacClare, the Marquess of Flintshire, to Susan MacClare, Robert Crawley's first cousin. At the end of the third season, MacClare (nicknamed "Shrimpie") confesses to Robert that he and Susan are unhappy after so many years of a marriage based upon political and economic reasons. When Robert inquires as to what Hugh and Susan will do, Hugh insists that they will soldier on and that spending time away will be good for them. A final situation is presented in a romance between Michael Gregson and Edith Crawley, Lord and Lady Grantham's second daughter. Gregson is a married newspaper editor whose wife is in an insane asylum. Gregson professes his love for Edith and insists that it is unfair for him to remain legally married to his wife.
We also discover that Robert married Cora, his American wife, for the purpose of saving the Crawley family from bankruptcy, only to fall in love with her after marrying. The Earl's mother, Violet Crawley, is very practical when it comes to finding a suitable mate, taking things like finances and status into consideration. Even so, Violet does not promote the concept of loveless marriage as she cleverly quips, "I'm not a romantic… But even I concede that the heart does not exist solely for the purpose of pumping blood."4
The impression that we might come away with is that marriages among the upper classes were arranged as a mere convenience for the families involved. While it is true that many in the upper classes might have married for mercenary reasons, it is also the case that most of the marriages during this time, including many of those in the upper classes, were happy marriages based upon true compatibility. This is evidenced by the low divorce rates as compared to today. It is certainly true that the motives for entering into marriage have been and often still can be motivated by less than stellar reasons. This invariably produces problems for couples involved in these marriages. Interestingly enough, the show doesn't make this into a major focal point. Instead, Robert and Cora Crawley are said to have fallen genuinely in love after marrying, and Hugh and Susan MacClare resolve to work things out.
While it might seem that early-twentieth-century divorce laws were outmoded, our modern principle of easy divorce is not without consequences. In today's society, divorce comes easily, which has many adverse outcomes. Divorced parents have a greater difficulty in relating to their children, and their children find it more difficult to relate to them. Children of divorced couples are more likely to engage in delinquent behavior, as they are less equipped to appropriately handle conflict. The children of divorced parents also value their femininity or masculinity less and have a greatly increased risk of out-of-wedlock pregnancy and divorce in their future marriages. Studies have demonstrated that people trapped in unhappy marriages are actually happier when they resolve to work things out with each other as opposed to divorcing. While many might assume that divorce will make them happier when they are unhappy with their marriage, the truth is that divorced people do not report being happier after divorce. On the contrary, people who report that they are unhappy with their marriage almost always report that they are happy five to ten years after reporting that they were unhappy if they decided to remain married. Many of the circumstances that bring about unhappiness in marriage are transient and end with the normal passage of time.5
While viewers of Downton Abbey might disapprove of traditional marriage law as the antiquated vestiges of a backward social order, the reality is that they actually did help make society function better, and people were happier because of it. Contrary to popular belief, people actually were happier in their married lives than many of us are today, precisely because we have rejected the traditional morality that still lingered on at the beginning of the twentieth century, though, alas, divorce had already become more common among members of the aristocracy by that time. Still, it isn't at all unlikely that many couples, like the fictional Lord and Lady Grantham, would have married for less than ideal reasons only to genuinely love each other because they really were compatible. Even in the cases of couples like "Shrimpie" and Susan MacClare, the couples were better off when they decided to forge ahead and weather any storms that came their way together.
Conclusion to Part 1
We have analyzed a basic premise and plotline of the story and begun to look at some of the issues that the story addresses. The first issue that we looked at is how the show deals with the unhappy marriages that exist with some of the characters of the show. Downton Abbey affords us a glimpse of a time when marriage was still a strong institution in Western culture, just prior to being undermined by egalitarian ideas that became popular after the First World War. The show accurately deals with the different ways that couples of the period handled difficulties. Having dealt with the issue of unhappy marriages, we will engage topics such as how gender, class, and religion are portrayed in Downton Abbey.