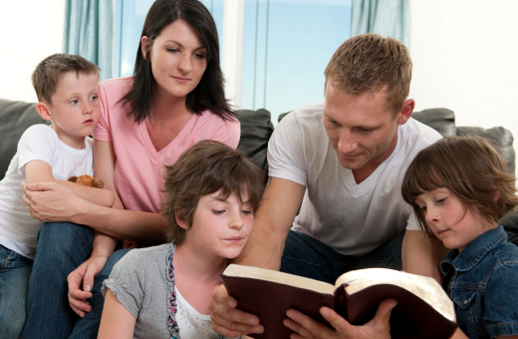 As a family we recently made a major move. My home country of South Africa, as many of our readers know all too well, has completely degenerated into a ghetto. So we packed up and left. However, with limited viable employment opportunities in the countryside (everywhere around the globe), we settled in a major city – for the time being. And the adaptation in lifestyle has been major, to put it mildly. I have known for some time that big-city life is not conducive to godliness, but even I did not realize the impact this would have on our family life right from the beginning. Of course, we also moved from a bigger farmhouse to a city apartment, and from a milder to a colder climate, all of which entails major challenges for our young family and the new lifestyle to which we are now forced to adapt.
There has been one tradition from my youth in which I have been able to find solace in the midst of the hustle and bustle: singing together as a family at home, especially during the family altar time. It is something that I, as a head of my household, have sadly neglected, I'm forced to admit. Despite regularly reading the Bible with my family, we've always been a little lax when it comes to making a holistic ceremony of the family altar. This is despite the fact that I grew up in a home where my father had us singing Psalms and hymns together twice a day.
I remember the internal struggle this caused for me as a child growing up in the 90s and early 2000s in South Africa. Our society was rapidly secularizing at the time and we were still attending public school, so whenever we would have friends or visitors over, my siblings and I requested my father to skip the singing just for one night or weekend, so that we wouldn't appear too old-fashioned or weird to our peers. I think he obliged once, but never again. Eventually, we got so used to it being part of our identity that it stopped bothering us much, but I still haven't consistently implemented it in my own family life – until now.
I've never held a job where colleagues make my life as miserable as they do now. I have superiors from a very special tribe, and they tend to treat others in a way that is highly offensive to a warrior for Christ's Kingdom like myself. So work is unpleasant, and getting home to my family is what drives me during the day. Once we gather together, turn off all electronics, and simply read from God's Word and sing to His glory, all is well again.
As an Afrikaner in a foreign land, song and folklore in the home also have the added benefit of perpetuating our unique culture to our children, something they won't experience as much in the world around them as my wife and I did during our childhood. If children are old enough, one can also add discussion and exegetical questions on the text to this altar time, or one can add the reading of a commentary on the text. While not advocating a return to Romanism, I also believe the liturgical calendar and calendar of saints can be a valuable means in adding a lesson on God's providential work in history to altar time. This is also something I'm considering.
Ultimately we would love to move to the countryside eventually and raise the family in a more appropriate environment. Nonetheless, for the time being things are what they are, and I know God is working with us even here and now during this tough part of the transition. He accomplished His purposes, and one of those has been to remind me, and through this article to remind you, of the importance of the rituals of the family altar – not just some light reading before we put the kids to bed, but a holistic family tradition with spiritual and cultural significance: a means of sanctification integral to our family and children's development as white Christians in good standing with God and neighbor.